Call Now
Email Now
Todays textiles require modern approaches to maintain their original qualities. Whether you need carpet, upholstery or leather cleaning, be assured Mr. K's will use the most up to date equipment and techniques available to restore your furnishings to a like new condition. Many of today's textiles have protective coatings that prevent excessive wear, soilage, and staining. The technicians from Mr. K's are trained to identify the type of fiber they are working with and proceed using the proper cleaning and protection procedures. For carpet and many fabrics we use a state of the art truck mounted steam cleaning method to insure thorough soil and stain removal while leaving your textiles as dry as possible.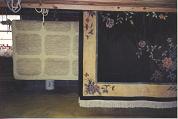 Mr. K's Carpet Service also provides a pick up and delivery cleaning service for your area rugs. All work is completed on our premises and returned promptly.
| | | | |
| --- | --- | --- | --- |
| | | | |
| | Contrast Photo | Cleaning Velvet | |
When cleaning many fine fabrics we may either use a combination of steam cleaning and hand shampooing, or a moisture barrier cleaning technique. When cleaning velvets we are careful to clean, soften, and re-groom all the fibers to their original alignment.
Call Now
Current Cleaning Specials
Carpet Specials
Upholstery Specials